To design and create electronics in general and printed circuit boards (PCBs) in particular, engineers need to know their way around circuit design, the latest circuit components – and have some experience in working with PCB design software. If you are still uncertain about the software part (namely, which solution you should be working with), this article is for you.
Top PCB Design Applications: Everything You Need to Know
Below you can take a closer look at our list of top PCB design applications and their detailed overviews.
Altium Designer is considered a premium solution. This is not surprising considering that its price exceeds $7,000. Altium is well-known among full-time circuit board designers whose employers can pay for such an expensive solution. As for freelancers, they prefer using lower-cost software.
Nevertheless, even at the risk of being subjective, we say that Altium is the best solution out there (and we've tried a lot of them before choosing this one). Here are four key reasons:
Altium functionality can support even the most experienced and demanding users. The latest version of Altium Designer includes a complete set of the features needed for designing, editing, and debugging circuit board-based projects. For instance, the editor allows modeling multi-hierarchical and multi-channel schemes of any complexity, as well as designing mixed-signal integrated circuits. In-built libraries are impressive as well: they contain more than 90,000 ready-to-use components (some of them can even help you create 3D objects using the C3D core). Besides this, Altium supports bi-directional work with mechanic details and component models in the STEP format – they can be imported from mechanical automated design systems.
Altium has a well-thought-out user interface (not a matched by the alternatives). In order to appreciate this advantage to the fullest, it's enough to take a look at its competitors. Interface usability is a crucial factor, especially for those working with a solution on a daily basis. Besides, such an intuitive interface makes beginners' training a lot easier.
Integration with SolidWorks. You can open any circuit board scheme created with SolidWorks and work on it without any loss in quality or the need to convert it. This is an extremely important point as any device consists not only of circuit boards but also the body. In turn, such integration mitigates the risk of errors and mistakes during the design and manufacturing of press molds (and the price of a single press mold can run to several thousand US dollars).
The community and its support are huge. If you have some difficulties in using Altium Designer, finding the solution is not going to be a problem. There are many US and Eastern European designers using this solution and sharing their experience online. As a result, you won't even need to go back to the manual in most cases – you can find the answer to your question on the Internet in a matter of seconds.
There are two notable low-cost versions of Altium Designer: Circuit Studio and Circuit Maker. However, they are only suitable for modeling the simplest of circuit boards. In particular, if you try to place several elements on the board and move them simultaneously in Circuit Studio, you'll see that some elements lose their connections with one another. Of course, this is awful as you'll need to repeat your actions again and again.
As for Circuit Maker, real users' reviews state that it's pretty raw and inconvenient in use; it apparently also has some significant performance issues. On the other hand, Circuit Maker comes with a cloud-based component library integrated with Ciiva search. This allows the creation of components with an integrated connection to the stores.
All in all, these two are good enough solutions that fulfill their primary tasks, but they won't be suitable for those who aren't ready to tolerate the issues described above.
Let's start with stating that hobbyists are the main target group of this PCB design solution. EAGLE suits only the simplest projects. On the other hand, if you are looking for something inexpensive and simple in use, EAGLE CAD will be a good option for you. Let's take a quick look at its main features:
Vast functionality. EAGLE features are absolutely enough for beginners. This solution includes a pretty convenient editor with a limited yet useful set of features. In particular, it includes automatic requirements checker for modern electronic devices. The solution also allows the creation of connection schemes for PCBs and synchronizing them with one another. Finally, EAGLE includes differential pair routing. So, this solution will be enough for a beginner or a hobbyist.
Mildly convenient user interface. The EAGLE interface is not that well thought-out in comparison with the previous solution. Nevertheless, we can't help appreciating a simple and easy-to-understand interface with quite a wide range of features. This will be enough for working on small-scale projects.
Low learning curve. EAGLE is one of the most popular solutions for novices in circuit board design. This is why it's not surprising that it has a robust community online. What is also worth mentioning is that there are a number of YouTube video tutorials that can help you master the solution.
Flexible pricing. This software comes in different versions for purchase: Freeware, Eagle Learn, Eagle Make and Eagle Business. Each of the versions comes at its own subscription fee (it varies between $15 and $65 per month).
Mentor Graphics is another popular solution. It is an all-in-one tool for designing PCBs that includes everything you may need for creating schemes, placing components, tracing, modeling, checking electromagnetic compatibility and signal integrity, and carrying out final preparation for manufacturing. We should point out the following features of this solution:
Robust functionality. The Xpedition platform is one of the most popular Mentor Graphics products on the market. In its various versions (PADS Professional or Xpedition itself), this PCB design platform will find its application in designing complex electronic devices. The solution's key features include support for designing projects with multiple PCBs, 3D modeling, various tracing modes, hierarchical groups, checking the manufacturing process for testability and accuracy, and electronic data management functionality.
Easy-to-understand interface. Users point out that PADS is one of the easiest to understand and use solutions in its niche.
Special features for speeding up the design process. This solution includes the Veloce Strato feature that allows speeding up the modeling process several times while increasing its accuracy.
OrCAD is our next globally-known solution for designing PCBs. Among its key features are:
Advanced features for engineers. OrCAD comes with special PSpice extensions for end-to-end circuit modeling. Moreover, its latest version allows users to create databases for integrated circuits. Finally, OrCAD CIS provides you with fast and simple circuit parameter integration with the database – this speeds up the collaboration process when there is a team working on a project.
Medium learning curve. OrCAD is definitely not the easiest-to-master solution in its niche; however, it is not the most difficult either. On the other hand, the functionality available for its users is worth the time spent on mastering the solution.
Automatic routing available. OrCAD comes with SPECCTRA, which is the best option for automatic routing.
3D rendering. This solution allows for 3D rendering; however, its quality is not as impressive as that of the solutions discussed above.
This PCB design solution is not without its drawbacks. In particular, some users point out that OrCAD creates a separate application for each function. This is inconvenient as you need to switch between multiple windows even if you are working on one PCB.
KiCAD is one more popular solution that, like EAGLE, will be a good fit for those who are just starting their journey in modeling circuit boards or don't want to spend a small fortune on a small-scale project. Here are some of this solution's benefits:
Absolutely free. This is, perhaps, the most considerable pro of this solution which can be a good excuse for its steep learning curve. Notably, KiCAD is available for all of the most popular OSs: Linux, Windows, and Mac OS X.
A wide range of opportunities for its users. Apart from the standard features, KiCAD functionality includes checking the compliance with the requirements for circuit boards, creating both simple and complex hierarchical systems, modeling 3D schemes, and importing and exporting STEP models.
Convenient editor. The KiCAD editor includes a wide range of hotkeys. In addition, you will find features for implementing routes, automatic redirection, differential pairs settings, and synchronization that will automatically implement the changes after tracing.
Like Altium Designer, Allegro Cadence is one of the most advanced and convenient-to-use automated electronics design systems. It is accessed and managed via the command line – some users find this peculiarity its main inconvenience.
Here are some of the key Cadence benefits:
In-built features to facilitate achieving compliance with modern high-speed digital interfaces. Allegro and its in-built feature, High­Speed, extends the set of controlled electrical constraints, which can be used to achieve maximum signal integrity and ensure accurate temporal behavior, all within the shortest timescale. In addition, this solution includes such powerful tools as Auto­interactive Delay Tuning, Auto­Interactive Phase Tuning, Auto­Interactive Convert Corner, Timing Vision and so on.
Direct synchronization. Cadence's powerful synchronization tools automatically implement changes made to the main part of the project into all of its versions. You can determine the desired version of the project during any design stage – when creating the list of raw materials, modeling or preparing the data required for manufacturing. You can do it using either the editor or the scheme input.
Low system requirements. Allegro Cadence stands out among its competitors due to its low system requirements. Among all the other professional-oriented design systems, only Cadence can work on a single-core processor. The solution is fully compatible with Windows OS, starting from Windows XP.
One of Cadence's main drawbacks is the high subscription fee (although it's lower than Altium's cost) – it amounts to approximately $4,000. This limits the solution's affordability not only for hobbyists but even for large companies specializing in PCB design and interested in increasing their employees' productivity.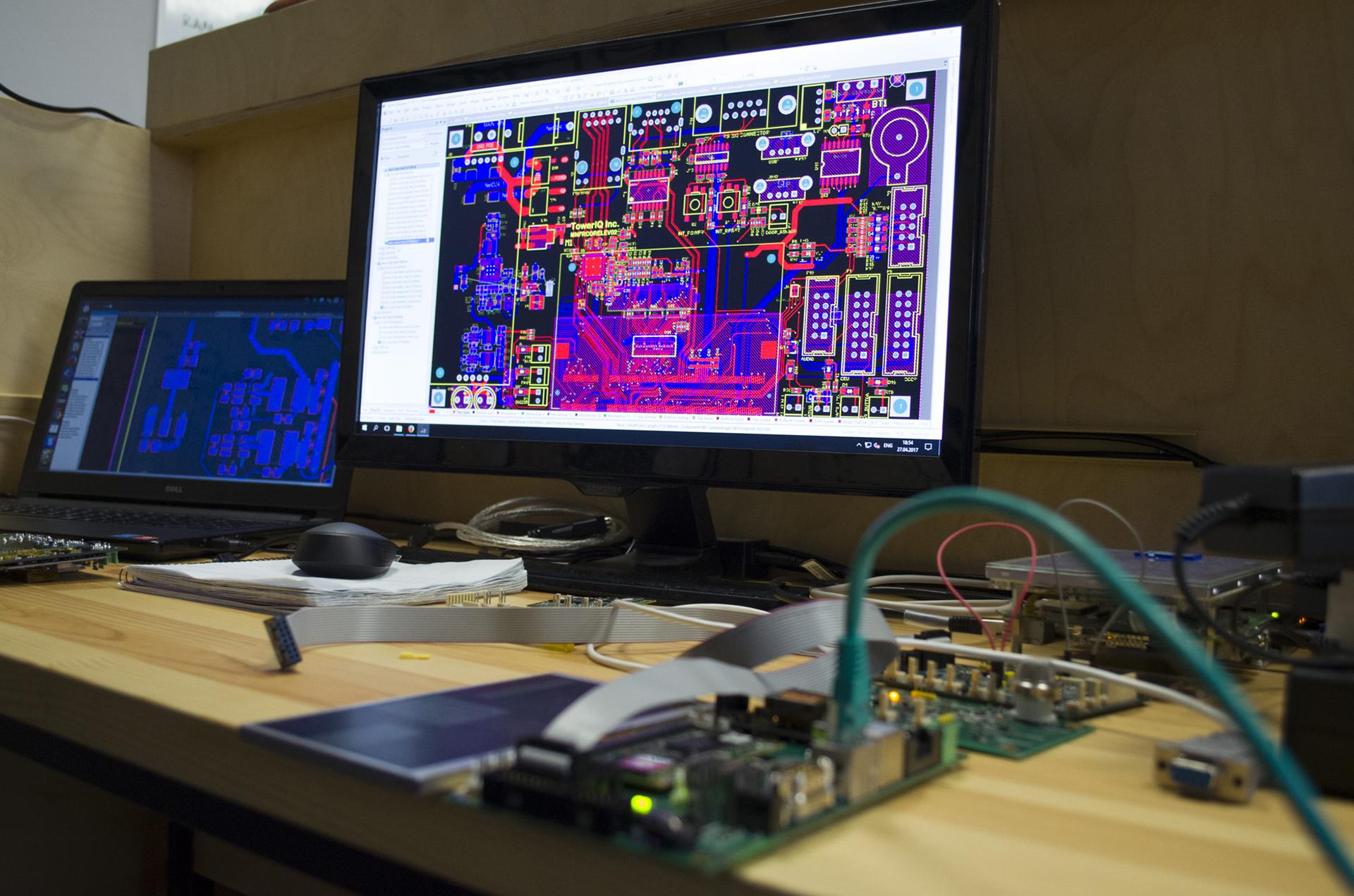 What PCB Design Software do We Use In House?
On our behalf, we'd like to point out that we've chosen Altium after a long trial and error process. Despite its high price, this solution is worth every dollar spent on it – it's extremely convenient, it has robust functionality, and it didn't require our employees to spend too much time mastering it.
In particular, we created the circuit boards for one of our largest-scale and most ambitious projects, Auxiliary In-Built Radio System with Dedicated Radio Console, using Altium.
PCB Design Software: Comparison Table
To make sure you have the most objective overview of these solutions possible, we've prepared a comprehensive comparison table that you can find below. It includes the solutions' pricing, complexity (both of the projects that you can create using them and the solutions themselves), etc.
Name
Entry Threshold
Recommended Project Complexity
Pricing
Support
& Community
User Interface
Altium
Medium
High
(used by professionals)
High, amounts to $7,245 per year
Excellent
Extremely easy and convenient to use, with a colossal range of features and intuitive navigation
Circuit Studio
Low
Low
(used by beginners and hobbyists)
$495
Excellent
Not so convenient in use even for beginners; the range of features leaves much to be desired
Circuit Maker
Low
Low
(used by beginners and hobbyists)
Free
Good
Not so convenient in use even for beginners; the range of features leaves much to be desired
EAGLE
Low
Low
(used by beginners and hobbyists)
Free (paid features available, the price starts from $15 per month)
Excellent (especially the online community)
Easy to use; however, the range of features leaves much to be desired (especially for professional use)
Mentor Graphics
High
High
(used by professionals)
High, amounts to $5,000 per year
Online manuals are quite good, but a beginner would have to study them for days due to the solution's complexity
Navigation is quite complicated; a range of features is wide yet it can be hard to understand how to use them
OrCAD
High
High
(used by professionals)
Medium, amounts to $1,500 per year
Not so many tutorials online
Extremely inconvenient even for beginners
KiCAD
Medium
Low
(used by beginners and hobbyists)

Free

Good (but not as good as EAGLE's)
Quite complicated; requires skills in working with CLI
Cadence
Medium
High
(used by professionals)
Medium, $2,300 per year
Good (especially the manual)
As for a professional solution, it is a simple and easy-to-understand solution; its functionality is inferior to Altium
Conclusion
As you can see, you can choose from at least eight worthy options when looking for a PCB design software solution. We have picked Altium for use in-house due to its numerous benefits, as you are already aware. However, we know that it's far from being a low-cost solution, and it's not likely to suit beginners and hobbyists – they would benefit more from practicing in EAGLE or KiCAD. (Read more: Top Seven Mistakes to Avoid in PCB Design)
Do you already have a favorite PCB design solution? Share your experience with us in the comments! Or contact us to order custom PCB design.