UWB Technology Review: Modules, Characteristics, Usage, Perspectives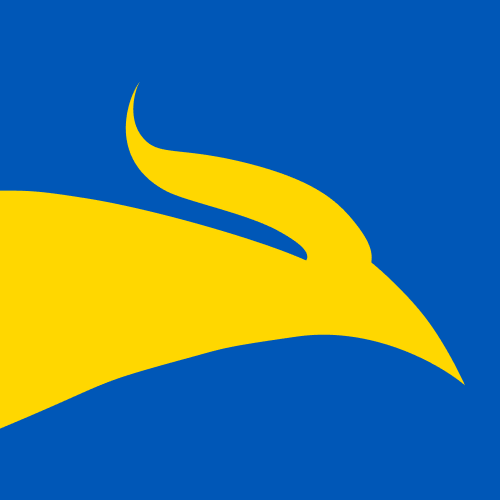 Reading Time:
7
minutes
Ultra-wideband (UWB technology) is a radio frequency connection specification based on the IEEE 802.15.4a and 802.15.4z standards, capable of providing accurate transit time measurements. This allows calculating distances and locations with centimeter precision.
Besides, UWB technology offers the ability to transfer data over short distances upon a low power consumption, which allows some devices to operate for years without the need to recharge or replace batteries.
Other advantages are high data transfer rates and information security. By combining precise positioning and reliable communication, UWB technology offers a new way for secure wireless communication. At Sirin Software, we work hard to outfit our existing and prospective solutions with safe and lightning-fast ultra-wideband communication capabilities.
UWB Technology Description
UWB-based radio systems use the 3.1 to 10.6 GHz frequency range. Thus, the signals do not interfere with the more traditional radio communications.
One of the significant areas of application for ultra-wideband technology is real-time positioning, in particular, based on radio-frequency identification (RFID). UWB technology uses very short (in the order of nanoseconds) pulses, the creation of which requires a minimum amount of energy, and the effect on the operation of other devices is minimal.
Broad-spectrum signals are less likely to be blocked by materials that delay the propagation of waves in specific frequencies. Short-pulse wideband signals are more difficult to detect, jam, and intercept than narrowband transmissions. This is because they occupy a large bandwidth with a noise-like characteristic. Thus, the security of UWB technology is higher than that of more traditional ones.
A UWB technology description would be incomplete without mentioning operating modes and location calculation schemes. The standard provides for several modes of operation for uni- and bi-directional communication by changing the bandwidth and the number of connections in different bands according to time and frequency division multiplexing technology. UWB technology uses the following location calculation methods:
UWB can support network operation over hundreds of channels simultaneously (as opposed to three in 802.11b and ten in 802.11a).
High frequency pulsating transmissions require less energy. UWB devices can work at deficient power levels while supporting the simultaneous operation of multiple types of networks (such as WPAN) at data rates exceeding 100 Mbps.
UWB technology characteristics such as multiple connections and frequency multiplexing enable the use of compact handheld readers. The RF circuit can be simpler, the antennas smaller, and the data transfer rates higher. Now, let us briefly review some examples of available UWB devices.
Decawave
UWB Technology Modules
Review
Decawave, an international micro-location solutions developer, was one of the first to offer microchips for ultra-wideband radio communications that allow building complex systems.
Decawave RFID devices can transmit volatile information about a tracked object and operate in various modes simultaneously. The technology does not use the principle of the carrier frequency, which provides many advantages and possibilities. To help spread the standard, the company's engineers put the lowest possible power consumption of transceivers and cost of circuit manufacturing at the forefront.
DWM 1000
The DWM 1000 is a wireless transceiver module based on the DW1000 chip. Provides good UWB technology characteristics:
Determination of the location of on-premise objects using the

RTLS

principle with an accuracy of 10 cm;

Data transfer rate up to 6.8 Mbps;

Communication range of up to 300 m.
DWM 1000 supports easy integration with a wide range of microcontrollers, Time of Flight (ToF), and TDoA distance calculation methods.
DWM 1001C
The module integrates a DW1000 chip, Nordic Semiconductor nRF52832 microcontroller, and a 3-axis accelerometer. Each mode can be configured with a binding or RTLS tag. Features include capabilities to operate in the role of network gateway and create scalable two-way ranging RTLS systems with up to a thousand labels.
DRTLS firmware reduces software development costs. DWM 1001C has a built-in Bluetooth module, supports operation in UWB 5 bandwidth (6.5 GHz) at a data transfer rate of 6.8 Mbps, and can be employed for a variety of applications, including tracking, navigation, manufacture automation, security, and consumer applications.
DWM 3000
Based on the Qorvo DW3110 IC transceiver, DWM 3000 entirely coincides with DWM1000 by pins and dimensions, offering flexibility. Compared to the previous generation module, it has a significantly reduced power consumption and support for UWB channel 9 (8 GHz band).
Through the SPI slave interface, the module can be easily connected to a wide range of microcontrollers. Supports BPRF mode, 6.8 Mbps transfer rate, ToF, TWR, and TDoA ranging schemes. Currently supplied in the form of engineering samples for testing purposes.
DWM Development Board
The DWM development board includes a UWB module, battery connector, charging circuit, LEDs, buttons, Raspberry-Pi microcontroller, and USB connector. Comes equipped with a J-Link OB debug probe that provides debugging and virtual COM port capabilities.
The module can be configured as an anchor or tag for a real-time positioning system or act as a network gateway. BLE allows interacting with smartphones and tablets for customization, visualization, and power management purposes. An economical accelerometer allows a large number of tags to be used with minimal power consumption.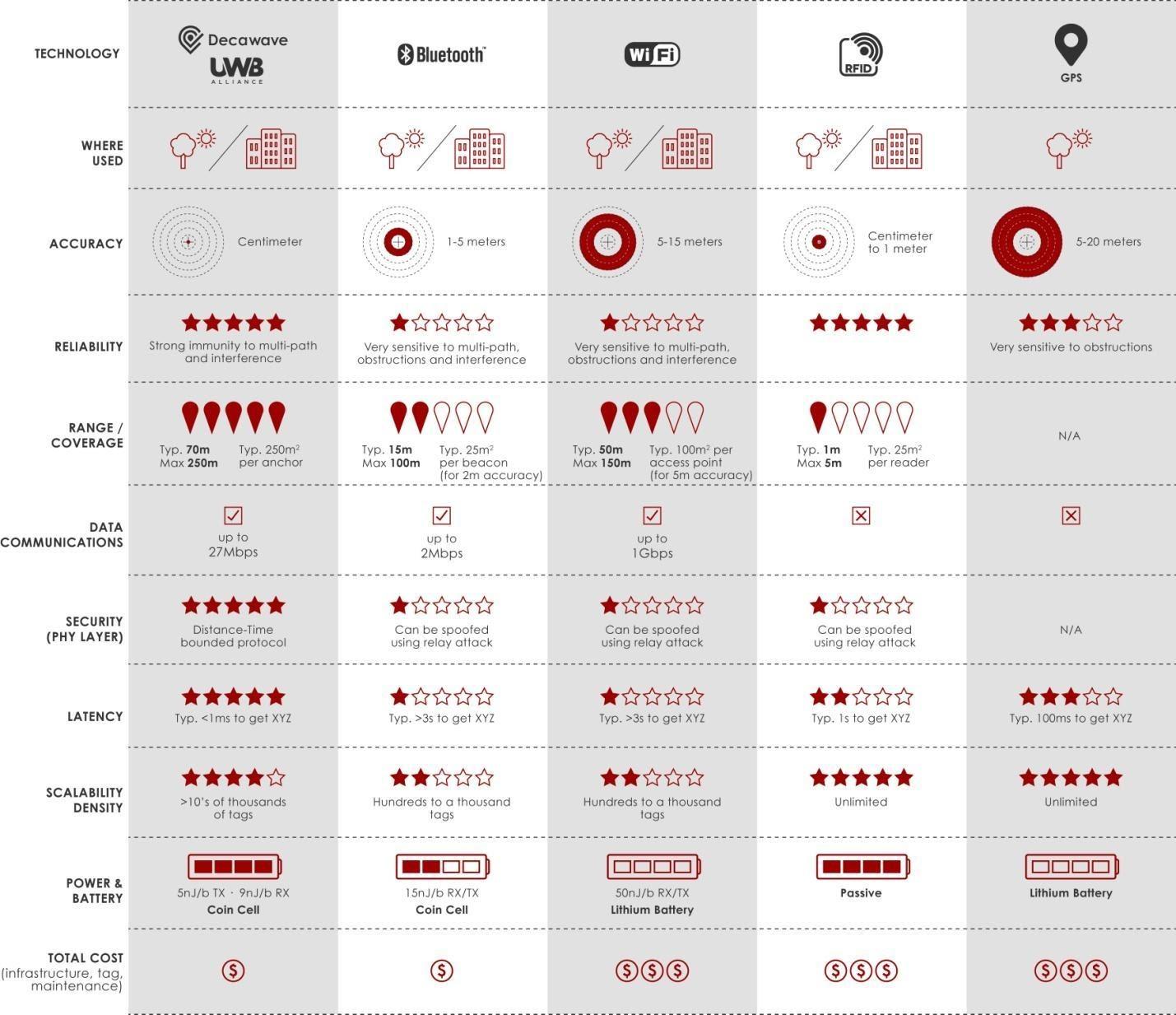 NXP UWB Technology
Review
NXP is a renowned engineering company offering a broad portfolio of advanced microcontroller products, including Gigabit-class network processors outfitted with hardware package processing and QoS capabilities, advanced Wi-Fi transmitter, IoT radio, and a range of other ancillary devices. NXP Layerscape processors are used to build scalable, efficient, and highly integrated wireless solutions for home and corporate environments.
The Trimension UWB Development Kit includes an SR100T chipset, QN9090 microcontroller, and low power FXLS8962AF accelerometer. Supports USB, Bluetooth Low Energy, UART, and NFC interfaces (no built-in antenna). Provides high measurement accuracy of linear (±10 cm) and angular values (±3°).
NXP UWB technology allows designing systems for various applications based on Trimension SR150 and SR040 modules. For instance, it can be used to assess industrial equipment performance, build a real-time positioning estimation system, and serve as an RFID tag, network extension node, or gateway.
NXP Trimension modules operate in a 6 to 9 GHz frequency range, with a bandwidth of 500 MHz per channel. Not specific to a particular band, NXP development kits speed up the development and reduce costs. UWB technology characteristics inherent to these are suitable for IoT, real-time locationing, video game consoles, smart TVs, radios, and temperature controllers.
Other Vendors 
Zebra produces uniquely numbered RFID tags that operate in a periodically emitting mode. Sewio offers anchors for indoor tracking with an accuracy of 30 cm. These UWB technology modules work according to the TDoA methodology, allowing you to use an unlimited number of tags (up to thousands in one area) and a built-in barometer. Locatify also has a range of devices for location-based applications.
Siemens SIMATIC RTLS is one of the most essential components in the digital infrastructure of innovative factories. The platform determines the location of objects with centimeter precision and transmits location information to higher-level systems in real-time.
Intel is also working hard in this area and believes that its wireless solution will become a common platform for a range of different wireless technologies. The company intends to provide low cost, low power consumption, and high data transfer rates for WPAN.
UWB Adoption
Today, UWB chipsets are employed in a variety of areas:
Automotive industry – access control, EV charging, secure communications in the life sign detection protocols, ADAS, and highly automated driving, maintaining comfort and safety, infotainment systems, vehicle transmission, car networks;

Telecommunications – the infrastructure of data centers, wired/wireless networks;

Industry – aerospace and mobile robotics, factory automation, healthcare, energy efficiency;

Mobile – wearable devices and accessories;

Smart city & home – security, payments, retail, transportation, indoor navigation, and intelligent device management;

Innovative technologies in the communications and edge computing industries, HMIs, and engine control units.
The features of ultra-wideband technology are suitable for widespread use. However, not too many Android smartphone manufacturers have implemented it yet. Limited support has appeared in the Samsung Galaxy Note 20 and Note 20 Ultra. Google has announced an intention to provide support for the technology in Android 12. Xiaomi also has plans for UWB, hinting at a more intuitive way to control smart home devices.
To date, only the latest iPhones have a fully functional UWB chip. Apple has patented a solution that unlocks the car upon the approach of the owner. UWB technology was also employed in AirTags hardware (iTag), which can be attached to an object (like keychain, wallet, or bag) to track its location using the phone.
UWB standard is open and public. Its capabilities attract developers, and in the nearest future, we expect the appearance of dozens of amazing apps. Sony, Volkswagen, Hyundai, Jaguar Land Rover, and Bosch have already announced the technology's adoption.
In the USA, many industries implement the UWB projects. The potential of ultra-wideband technology allows applying it everywhere, from wireless printers to contactless payments. Simultaneously, the technology does not replace Wi-Fi, NFC or Bluetooth, but can work in parallel with them. It is already being used to prevent transport collisions, track movements, and ensure property safety.
The high security of UWB technology is beneficial in logistics complexes and industries. For instance, RealTrac used it for their prized locationing system. Another shining example is Tallinn Airport that uses the Eliko positioning system for baggage claiming.
Tendencies and Trends
With the finalization of the IEEE 802.15.4z standard, which UWB technology uses, it will continue to spread in the mass market and business solutions, primarily due to the introduction of UWB chips into mobile devices. In particular, this will allow using new payment methods and transferring large amounts of data, such as wireless high-definition video.
According to ABI Research, as the number of UWB-capable systems-on-chip grows, the technology will continue to roll out in mobile accessories and consumer electronics. A healthy UWB ecosystem will form throughout the supply chain.
Bottom Line
UWB technology modules can accelerate the emergence of new smart device prototypes and make the world around us better, more comfortable, and safe.
Maximize production, miniaturization, integration, and energy efficiency with expert solutions. Contact the Sirin Software team today and get UWB technology solutions for the project of any complexity.